Fortunately Zac and Lily are quite keen too. Zac loves anything that involves a packed lunch, quite a common trait in 4 year olds I believe. Lily isn't yet walking so crawling around on soft grass is appealing to her and an activity that doesn't require to much of me (win, win).
A few weeks ago I was asked to write a recipe for children to try during the summer holidays for a private publication. Picnic fodder immediately sprang to mind – Cupcakes, jam tarts, sausage rolls. In the end I settled for the heart of any picnic – The Sandwich. I'm yet to meet a child that doesn't like eating bread and these picnic rolls are the perfect way for kids to learn the basics of bread making. Give it a whirl with your little bakers, let me know how you get on – I'm a sucker for a cute pic of a kid covered in flour!!
For this recipe you will need:
500g strong white bread flour
7g sachet of fast action dried yeast
170ml milk plus extra to glaze
140ml water
1.5 tsp salt
1-2 tbsp olive oil
Handful of seeds for topping (optional)
Makes 8 rolls
Preparation: 2-2.5 hours
Baking: 20 minutes
In a large bowl mix the flour with the 7g sachet of yeast. Add the salt and mix again. Warm the milk in the microwave or on the stove until piping hot (make sure a grown up helps with this bit) add the water to the hot milk. This should bring the temperature down to lukewarm (this funny word means not too hot but not too cold either, kind of in the middle!). Pour the lukewarm liquid into the bowl of flour. Mix together a bit with a wooden spoon, you should have a fairly sticky mess. Leave this mix to rest for 10 minutes.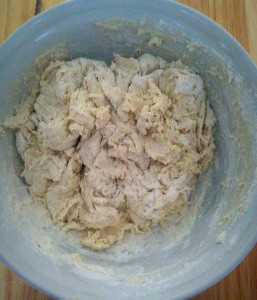 Now for the fun bit – rub some olive oil onto the work surface and your hands, gather the sticky mess together with your hands and make a pile with it on the oiled surface. Start squishing the mix together, then squashing, stretching and folding (this is called kneading). Your sticky mess should quickly turn into a soft dough. Don't worry too much about your kneading technique here, just get stuck in, keep going and have fun. A link to our hot cross bun kneading video is at the bottom if you need some help.
When your dough is looking quite smooth and feeling quite stretchy (after around 10 minutes of work) form it into a neat ball and nestle it into a large bowl. Cover the bowl with cling film and leave it in a warm place (airing cupboard/near a warm radiator) for at least an hour. In this time it will grow and rise up. This is called proving.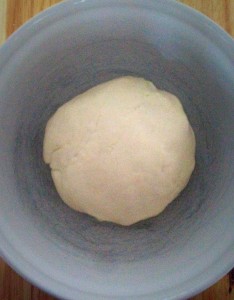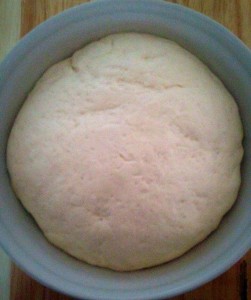 Once your dough has doubled its original size, it's ready for the next stage. Remove the dough from the bowl, does it feel different? What does it smell like?
Divide the dough into 8 pieces, roll each of these into balls between your hands. Squish the balls down a bit so they look like fat burgers. Spread your 8 burger shapes out across a large baking sheet. Rest some cling film on top of them but don't wrap them tightly as they need to do some more growing. Leave the tray in a warm place for 45-60 minutes. Halfway through this time, start warming up your oven to 180c/160c fan/gas mark 4. When you return to your dough it should have puffed up again. Remove the cling film and brush the tops of your rolls with some milk then sprinkle with seeds (I love sunflower seeds but poppy and sesame are good too).
Ask a grown up to put the tray of rolls into the oven for you, bake them for around 20 minutes. When they come out of the oven ask your grown up to tap the underside of one of your rolls, listen closely – you'll know it's ready if it sounds hollow, if not bake for 3 more minutes and test again.
Let your rolls cool completely before filling with something yummy…. Ham and cheese? Peanut butter?
Well done you made some delicious bread, I'll bet your kitchen smells lovely too!