It was Lily's first birthday last week. I always feel that 1st birthday parties are not really for the baby, more for the parents and siblings. Like a celebration 'You've made it, you have successfully shepherded your tiny baby through the first year without starving, squashing or otherwise seriously injuring her  – well done you!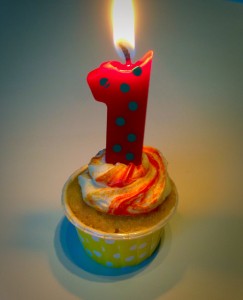 In any case we had a party, thankfully the sun shone and we were able to corral the revellers in the garden. Lily wasn't fussed, so I took the creative lead and settled on a rainbow colour theme. Usually I am complete freak about parties and I insist on making everything from scratch myself, but you know 2 children, small business to run, impending return to work – I decided to give myself a break just this once. So I let M&S take care of the savoury food and just made the desserts myself. I made miniature cupcakes with white chocolate buttercream and rainbow swirls. A layered sponge cake with raspberry jam, white chocolate buttercream and rainbow sprinkles. I also made lemon meringue pots which were delicious but ridiculously easy to put together (recipe posted below).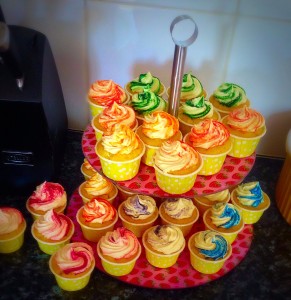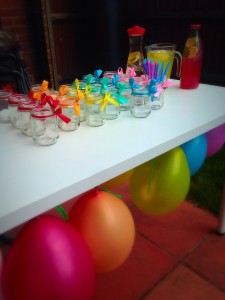 As we always run out of glasses at parties I invested in some jars to serve drinks in. They ended up being super cute and will definitely get re-used. I made a little drinks table with carafes of pretty looking cordials and all the jars laid out so people could help themselves (meaning less work for me – hoorah!)
The jars were from hobbycraft. They look sweet don't they?
So my little Lily is no longer a baby, Zac will be going to school in September. I must admit I'm starting to feel a knot in my belly about all of this, why won't time freeze? Watching the little monkeys grow and develop is lovely and all that but seriously enough with the passage of time. Must make more effort to enjoy every moment and revel in the little things…. putting iPhone down …. Any minute now…. Honest.
Anyhoo that's my musings done for now have a go at the recipe/assembly job below they really are yummy!
.
Big love
Alex xx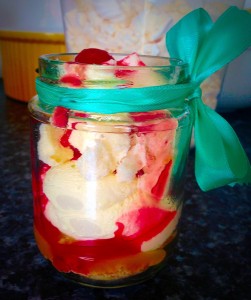 Lemon meringue pots
To make 10 pots you will need:
7 meringue nests (I make my own but shop bought is fine)
Small jar lemon curd
600ml pot of double cream
200g (ish) raspberries plus extra for decoration
Heaped spoon of icing sugar
10 digestive biscuits
10 small jars (with ribbons if you like)
To make the raspberry coulis (allow cooling time before final assembly)
Rinse the raspberries under the cold tap and put them straight into a small saucepan. Don't dry them, the residual tap water helps the next bit. Add the heaped spoon of icing sugar and put the pan on a low.med heat. Don't allow the pan to boil. Stir every now and then for about 5 minutes or until the berries have all burst and you are left with a pulpy liquid. Strain this liquid through a sieve into bowl, use the back of a spoon to push all the good stuff through, keep going until all that's left in the sieve is just seeds and some dry-ish pulp – discard this and have a taste of the lovely coulis you've just made – yum! Put this to one side to cool.
Assemble the jars
Crush the digestive biscuits, do this in a food processor or by putting them into in a sandwich bag and smashing them with a rolling pin (the latter is more fun and less washing up). Divide the crushed biscuits between the jars.
Spoon some lemon curd into each jar on top of the crushed biscuits (about 1 heaped teaspoon in each). Whip the double cream – unless you are the incredible hulk don't attempt this by hand, please use an electric whisk! Try to stop the whisk while there is still some slackness in the cream (so when you take the whisk out the cream forms a soft peak that then melts back into the mix after a few seconds). Spoon or pipe the cream on top of the lemon curd.
If you are not ready to serve them yet stop there (put the jars into the fridge to chill for now) as the next stage needs to be completed just before serving.
Smash up the meringues into shards then drop them into the jars on top of the cream, artfully stacking the shards till the jar is almost full.
Top each jar with one of the reserved raspberries and a generous drizzle of the (now cold) raspberry coulis.
Quickly scoff one of the jars before anyone has a chance to take them off you.
x x