So I've never written a blog before, I've read loads (seriously loads) but I'm still not sure what I want this Zac and Lily blog to be about. I've been working hard to get our products onto the website and get it looking as good as possible, I've left this first (tricky) blog post till last. But now there's nothing in the way of the website launch apart from this so here it is 'Ta Dahhh!'
**Insert witty yet useful prose here**
….
…………
…………..      Nope nothing. Here's a cute picture of a cake instead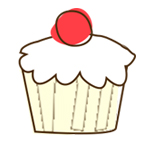 Maybe I should just tell you a bit about what goes into making a Zac and Lily product and we'll go from there.
It takes ages to get a recipe ready for a new Zac and Lily product, weeks, sometimes months; endless test baking, tweaking different ingredients, varying oven temperatures, writing and re writing instructions. Then the samples are sent out to various test bakers to undergo yet more scrutiny.
As a result of this endless test baking, Rusty (husband) cannot even smell chocolate shortbread without feeling sick anymore. Me and Zac seem to be more resilient, though I did go off pancakes for a while…. Fear not this seems to have resolved itself now.
I'm not a chef or a professional baker, I have no formal training but I guess the children that use our kits are in the same boat.  I know a bit about the science of baking and I've learned loads along the way but when I design a recipe for Zac and Lily there's more to it than just kitchen alchemy.
I want our kits to be sensory experiences on multiple levels; the raw product has to be interesting to squidge, to smell and to taste. I always recommend our flapjack mix for very young bakers and it's a perfect example of this.  Firstly because there is no egg added, its completely safe to eat when raw so children can be encouraged to taste as they go, it has great texture – oats, squashy raisins, hard white chocolate chunks so when they are mixing (with their hands of course!) they can explore all of this, it smells really lovely – that's the coconut, it's a subtle flavour when you eat it but you can really smell it when you have your hands in the bowl mixing it around.
It's not all about the children though, in fact Zac and Lily first came into being because my mum friends weren't that keen on baking and their kitchen endeavours with their children had mostly turned into mess making, temper fraying, burnt biscuit eating disasters (mine too on occasion if you are wondering!) Whilst I don't for one second believe that one of our kits can produce a scene of glossy magazine idyllic parent/child bonding. I try to think of everything a bake-o-phobic parent might need to get through the experience unscathed. The little baggies (yep it looks like drugs) of flour to dust the work surface when making shortbread, the makeshift piping bag in the hot cross bun mix and the milk measuring cup that comes with the American pancake mix. I realised that not every human has piping bags and liquid measures or even flour, so these little touches are important if I want a kit to truly work.
So after all of that I put our product out there, fingers crossed that all my careful planning and testing was enough. Time for a glass of diet coke before starting the process all over again with our next new product.
If you are still with me after that – well done and thanks (Hi Mum).
I think I'll try to post something a bit more useful next time, maybe a recipe. In the style of all good bloggers I'll encourage you to leave your comments below, perhaps this will help to guide me into more sane blogging territory next time.
Big love
Alex
x x